Julianne Donovan is an award-winning graphic designer, illustrator, artist and owner of Keen Bee Creative. Her global travels accompanied by the ever-flowing variety of projects she handles from concept to delivery, contributes to her well-rounded, multi-cultural and visual communication background.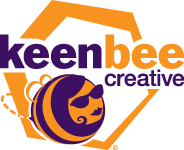 Passionate about creating uniquely brilliant work, Julianne applies her keen design insight and dedication to a multitude of client and business to business (B2B) contracted projects in development, creation and instruction including: toy concept and design, children's book and magazine editorial illustrations, billboard, mural and window display advertising, corporate identity, multi-media development, paper, ink and print techniques with mailers, greeting card design and illustration, sculptural design as well as theatrical, stage, special effects (FX) makeup and hair-art development and application along with everything in between. Clients include Andrews McMeel Universal, The Folly Theater and Warner Books, Jewell Theatre Company, regional universities and high schools, among many others.
At the Design Hive, Julianne guides individuals and groups (from beginner to advanced) in:
Digital Design: Adobe Creative Suite's Photoshop, Illustrator & InDesign; understanding computer basics (ex. email, facebook, google, etc.)
Performance Craft: HD, theatrical and FX makeup, prosthetic, hair, wig, and prop design and application as well as dressing room and makeup proficiency, wool felting and character specific hair accessories & prop development using recycled materials, fabric, paper, metal, etc.
Fine Art: life drawing, illustration, painting, sculpture, etc. using various mediums by hand or digitally.
Julianne's successful path working in the creative marketing industry for over 10 years illustrates her distinct commitment to staying current with all aspects of it's technology, design, project research, marketing and communication. Her robust career began with her BFA in Visual Communications from the University of Kansas plus her Army Reserves service for almost 9 years. As a Combat Medic (EMT qualified) using and developing moulage makeup for triage modules, she continued training as an Officer in the Photo Journalism and Public Relation fields. Her college and military background lead to key in-house illustration, design, public relation and art director positions as well as teaching Computers in Design, Art Fundamentals, Design Foundations and Drawing courses for 5 years at Penn Valley Community College
Building on her extensive skill-set, Julianne started Keen Bee Creative in 2006 allowing her to meet client's varied needs. She now partners with Bradan: the very best and brightest at bringing her graphic design, website design, presentations and video to life.